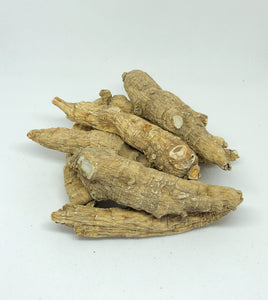 Roland's Medium Long collection is comprised of roots that grew in soil that had a healthy balance of loam and sand. The result is a longer, thinner root that is easy to chew. Marathon County, Wisconsin is geographically diverse with thick soils, sandier soils, and prized red granite that is said to impart Wisconsin ginseng with its unique flavor profile.
Genuine Wisconsin Ginseng in Medium Long Jumbo Package. Roots are 2.5 inches long. Jumbo Diameter. Comes in an 8 ounce package.
All ginseng packaged and sold by Roland Ginseng LLC is hand-selected and graded for consistency and quality.